Looking For The Best Bottomless Brunches in Auckland?
So, you're in charge of planning the next girls' weekend, or maybe that one friend who you never see is in town and you want to do something special! Whatever the occasion, a bottomless brunch is pretty much always incredibly fun! We have a few of our favourites to make it easier for you to choose. Check out below!
ThirtyOne: Enjoy something a little different with a fusion of Fijian and Indian flavours in the heart of Ponsonby! ThirtyOne stands out with its unique blend flavours to take bottomless brunch to a whole new level, with its tantalising flavours and bottomless offerings. Priced at $59 per person, this experience is worth every penny, and one of the cheaper ones in Auckland!
From traditional Fijian delicacies to aromatic Indian spices, their menu offers an array of innovative dishes. Indulge in mouthwatering treats like tandoori nibbles, onion bhajis and channa chaat. The skilled chefs at ThirtyOne ensure that every dish is an explosion of taste and texture, leaving you craving for more.
To complement the delicious food, the bottomless brunch at ThirtyOne offers a range of refreshing beverages. Sip on exotic tropical cocktails, fruity mocktails, or opt for classics like mimosas and prosecco, plus you can change drinks as many times as you like! The attentive staff ensures that your glass is never empty, creating a relaxed and enjoyable dining experience.
We love this place! Highly rate for a unique and very reasonable bottomless brunch.
Mr&Mrs Bistro: A Culinary Haven in Parnell Located in the picturesque suburb of Parnell, Mr&Mrs Bistro is a go-to destination for those seeking a luxurious bottomless brunch experience. With a price of $68 per person, this brunch offers an extravagant spread of culinary delights accompanied by exceptional cocktails.
Mr&Mrs Bistro is renowned for its elegant ambiance and a diverse menu that caters to every palate. From traditional breakfast favourites to contemporary fusion dishes, their selection is nothing short of impressive. Start your brunch with freshly baked pastries, artisanal bread, and a delectable assortment of cheeses. Move on to their delightful selection of hot dishes, such as eggs Benedict, smoked salmon, and succulent grilled meats.
The highlight of Mr&Mrs Bistro's bottomless brunch is their impeccable cocktail menu. Indulge in a variety of expertly crafted cocktails, from signature mixes to classic favourites. Sip on tantalising concoctions like passionfruit martinis, espresso martinis, or opt for a refreshing mimosa. Each drink is skilfully prepared, adding a touch of sophistication to your brunch experience.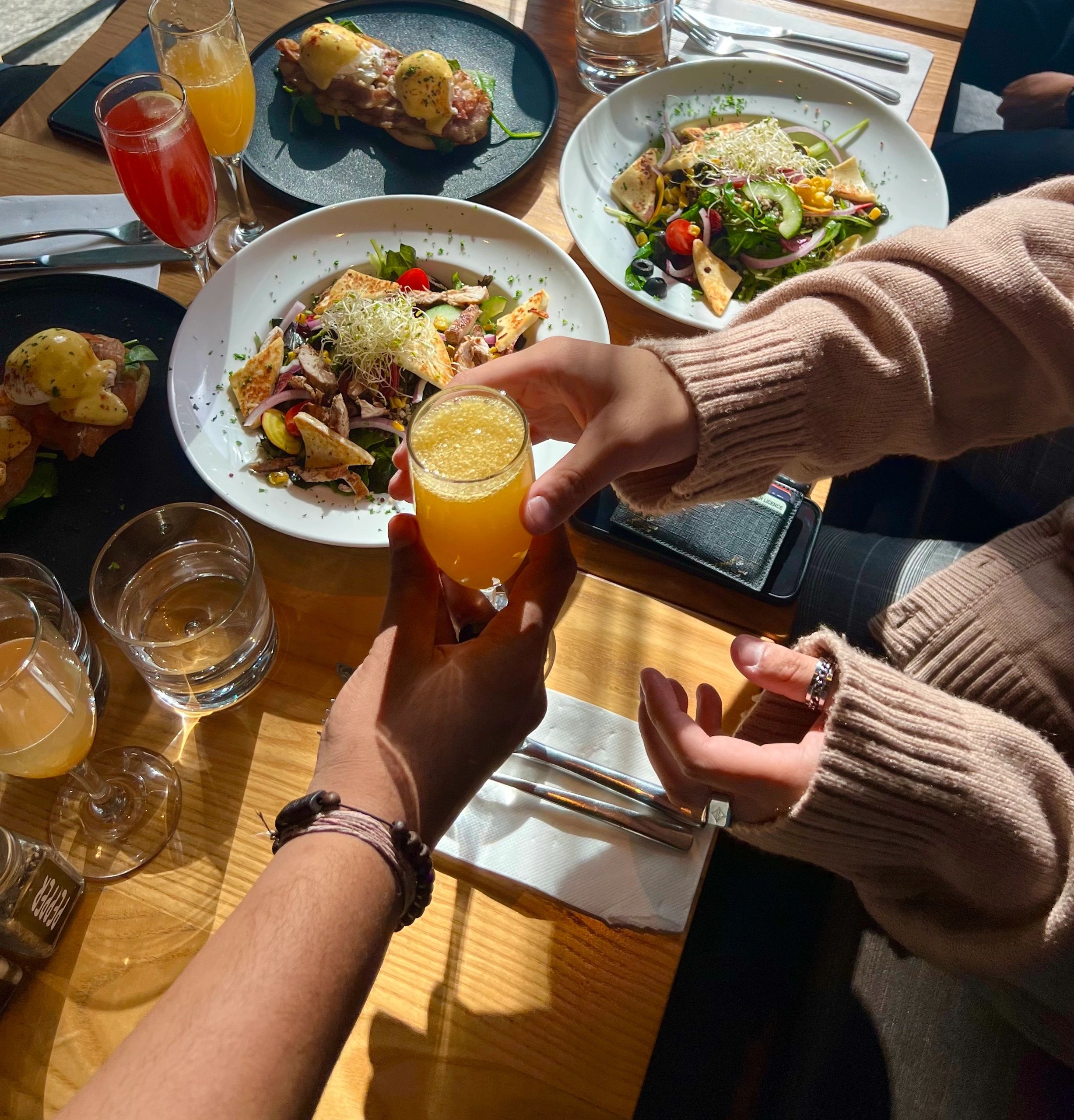 When it comes to bottomless brunches in Auckland, ThirtyOne in Ponsonby and Mr&Mrs Bistro in Parnell truly stand out. With their unique culinary offerings, inspired menus, and unlimited drinks, these venues promise an unforgettable dining experience. Whether you prefer the fusion of Fijian and Indian flavours or crave a luxurious spread accompanied by fantastic cocktails, these establishments have something to satisfy every craving. So, gather your friends, indulge in a leisurely brunch, and let your taste buds be transported to a world of flavours. Cheers to a delightful and bottomless brunch experience in Auckland!